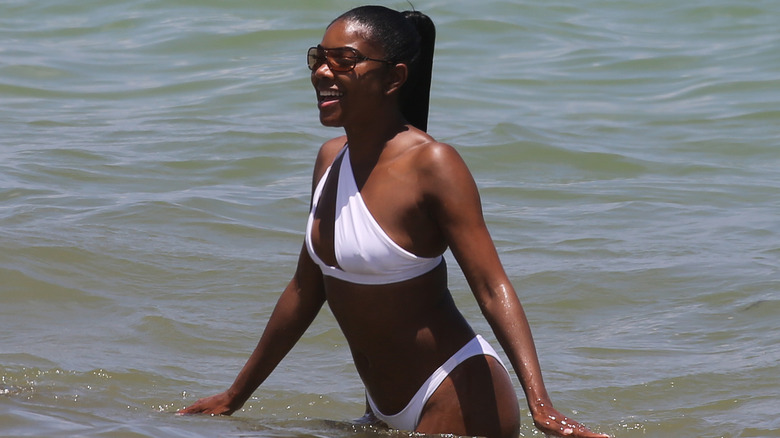 Mega/Getty Images
For some people, swimsuit season is the most anxiety-inducing time of the year. The thought of having to show skin in public settings can be a daunting task. With trends like low-rise jeans and see-through everything, finding ways to flaunt our bodies is taking over all of fashion, including swimsuits. Barely-there thong swimsuits are the "it" style of the summer, as seen on celebrities like Lizzo, Dua Lipa, and Sydney Sweeney.
Rocking such a revealing look can be scary, especially when you don't feel entirely comfortable with your body yet. Confronting swimsuit anxiety is no joke. But a cheeky thong can be adapted to make anyone feel comfortable trying it out. The secret to success is in the cut of the suit. What gives the thong style its playful name is how the back of the suit cuts through your cheeks and creates a whale-tail appearance on your lower back. There are several ways to adapt this cut into swimsuit bottoms to find one that makes you feel like the beach babe you are.
Go for a high waist for more comfort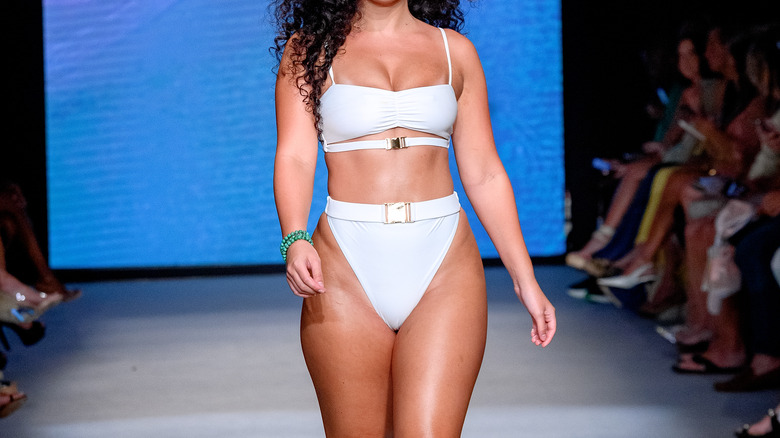 Ivan Apfel/Getty Images
The high-waist cut is a great intro to trying out the thong trend. It offers more coverage around your hips and waist while still leaving your cheeks revealed. You get the best of both worlds with coverage and a sexy peek at your cheeks. Don't shy away from a white swimsuit this summer, either — paired with the high waist gives us Marilyn Monroe vibes. Brands like Neena offer a classy take on the thong bottom that plays off the trend, but still feels durable enough to wear if you want to go swimming or be more active during your beach day.
Try a one-piece thong for major '90s vibes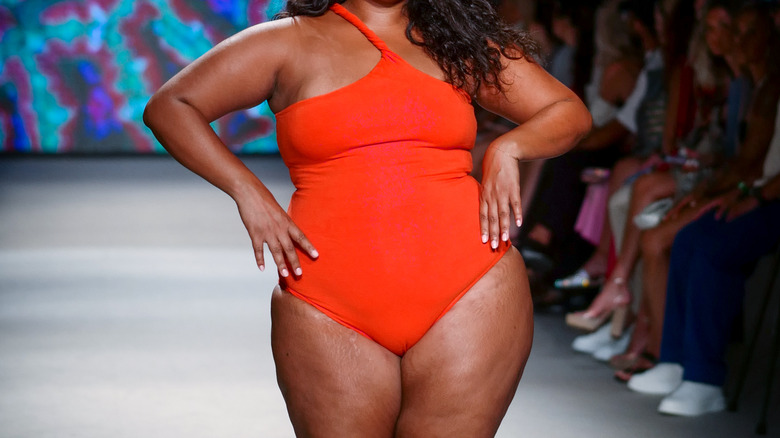 Reagan Rule/Getty Images
Yes, you can still incorporate the thong bottom into a one-piece! As a bonus, it's giving "Baywatch," especially if you go for a higher cut around the hips. A one-piece with a thong bottom is another great way to ease into the revealing trend without feeling like you're showing too much skin. The added coverage might give you less anxiety about exposure while letting you have more fun with the thong element. Skati has a variety of colors and cutout one-piece styles featuring a thong bottom that lets you find the look you feel your best in. Pair this look with the summer staple raffia bag, and you have the perfect beach day look.
Add some glamor with a shimmer thong
Skims by Kim Kardashian is a size-inclusive option that encourages all body types to explore the thong trend. Their glitter swim string thong is one of many thong styles they have that range in size XXS to 4X, making it one of the most inclusive brands on the list. The shimmery thong would be right at home at a nighttime beach bash or even at a summer music festival. Metallics are a hit this summer — incorporate the trend into your swimsuit for a fresh take on it. This bottom features a more traditional bikini shape with a cheeky surprise in the back, making it another easy way to explore the trend without feeling too revealed right away.
Emphasize your backside with patterns
Patterns on the back of a bikini can naturally add more volume and curve to your butt. The style follows the curves and dips in your body to give you a booty lift. Patterns are a fun, vibrant detail to add to your look and can help offer a more structured appearance to your swimsuits. We also can't help but think of the undeniable mermaidcore summer when we see the bright patterns that look like scales or shells. Victoria's Secret is just one of the many brands offering this style. Adding some fabric texture can help to make your swimsuit stand out and offer a unique vibe to your beach outfit.
Celebrate your booty with a string cut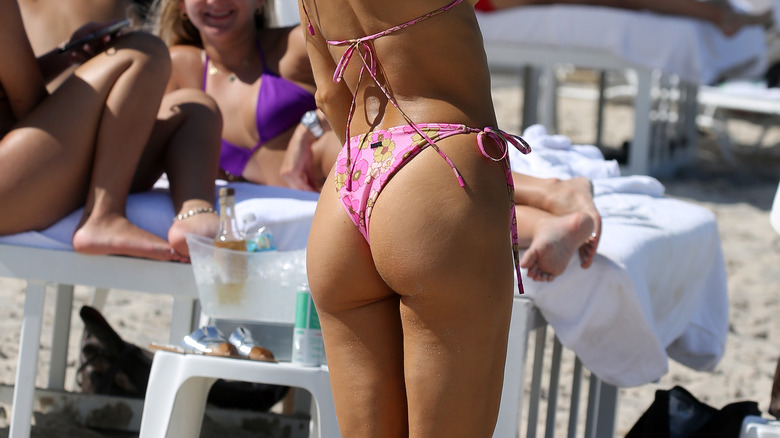 Mega/Getty Images
If you're someone who is already comfortable showing skin and are looking for a bolder cut, a string style might be right for you. While this style may not be the most functional for an active pool day, it is great for tanning and providing even coverage. This sexy style shows off not only your butt, but also your hips and waist. If you're someone who loves to flaunt what they have, this style is definitely one to give a try this summer. Fabletics offers the style in an XXS to 4X letting more bodies have the opportunity to rock the style.
Bare it all with a tanga-style thong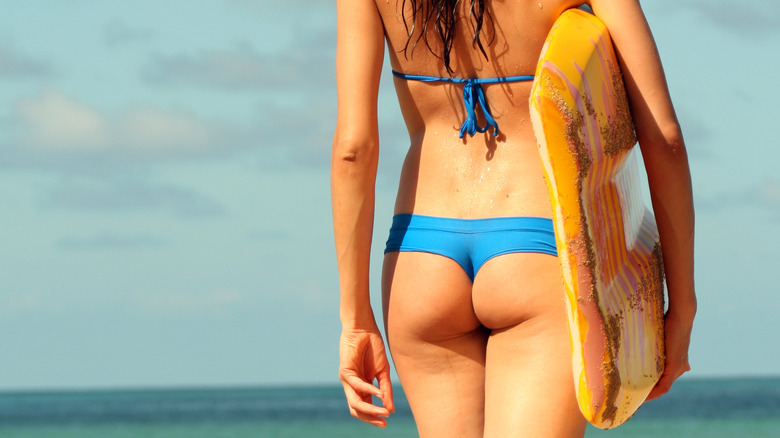 Edw/Shutterstock
If your summer goals include getting the perfect all-over tan, a tanga-cut thong swimsuit might be for you. This bare-all style is not for the faint of heart, but if you are looking for a dramatic swimsuit moment, look no further. One nice thing about this style is you won't have to worry about uneven backside coverage. The minimal style creates a uniform, even look. Asos features sizes double-zero through 18, encouraging many to try this daring look. Just don't forget the high-SPF sunscreen for your skin, and you're all set!
Lean into Y2K with a skirt and thong combo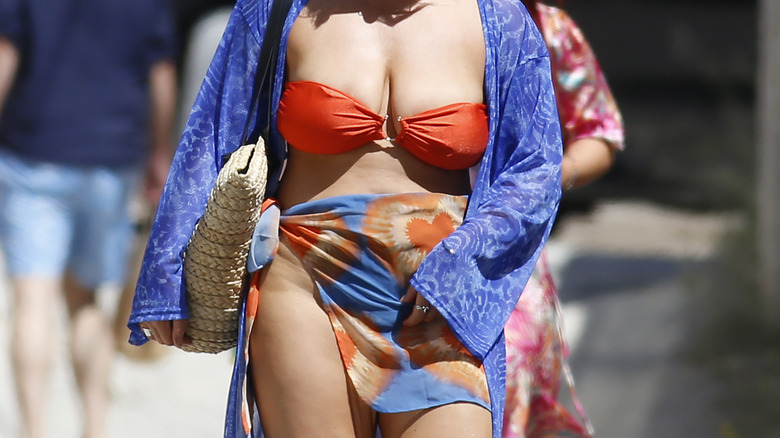 Mega/Getty Images
Give your outfit a fun, youthful twist by pairing your thong bottom with a swim skirt. This lets you decide if you want more or less coverage for your 'fit while still keeping your look cohesive. A swim skirt totally matches the vibe of the Y2K beach girl look. Plus, it goes hand-in-hand with summer anklet season, letting you double-dip into trends. Melissa Simone offers a bright, fun-colored set that captures the aesthetic perfectly.