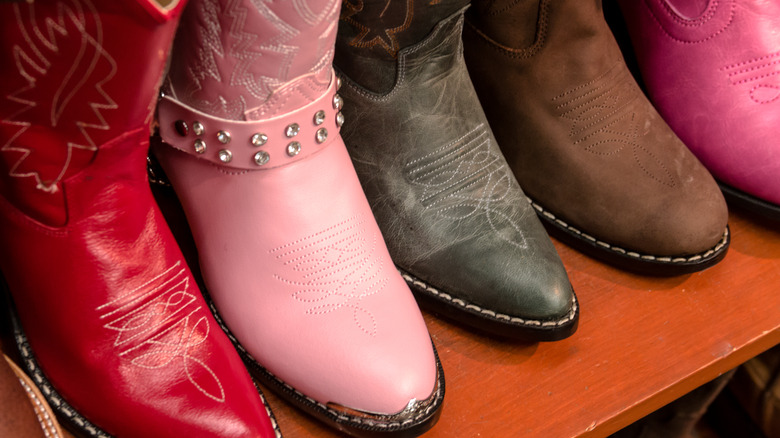 Tvirbickis/Getty Images
Whether you love them or hate them, there's no doubting cowboy boots are back — and they're here to stay. We've already been seeing the boots all over the place in 2023. In fact, Taylor Swift's Era's Tour and Beyoncé's Renaissance Tour both had a hand in the revival of the trend, with Verge claiming the massive tours contributed to a 67% increase in online searches for the footwear. But while we've seen a lot of them over the summer, now these seemingly all-purpose boots are making their way into the fall. That's probably not too surprising though, seeing as they're just so versatile. 
But how exactly do you take cowboy boots out of spring and summer and bring them into the later months of the year? Well, it's time to ditch the denim cut-offs until next year and opt for something a bit warmer, so we've rounded up our favorite ways to make the look outlast the sunshine and keep you warm (or cool, depending on what the weather brings) so you can nail transitional dressing as we make our way out of summer.
Bring out the jeans
One of the classic ways to wear cowboy boots, of course, is with jeans. Denim and cowboy boots go together like Dolly Parton and the late Kenny Rodgers, so it's rarely a bad idea to grab those blue jeans and tuck them into your boots. But if you're looking for something a little less traditional, you don't have to go with blue jeans. Why not dress is up in black denim? Or bring out your Barbiecore side in pink? The color possibilities are endless.
Pretty in a pattern
We all know that when fall starts to roll around it's time to bring out the boots and skirt combo, so this is a great way to nail that look. Black boots with a patterned skirt and a super cozy, matching sweater will show you're ready for the leaves to start falling, but still give that nod to summer before the change in season really takes hold. How far into the transition of the seasons we are will determine how fluffy and thick you want to go on your top half.
Pair your cowboy boots with a shirt dress
What's more rock and roll than this? Pairing your cowboy boots with an oversized band t-shirt or shirt dress is one way to bring a little edge to your look as we move into fall. You'll want to grab a jacket for those colder days (a leather one can never go amiss with this kind of look) and get ready for a night on the town. Though black or traditional brown boots would look just as good here, we love the juxtaposition of the white boots with the dark and edgy outfit.
Try a different kind of denim
We know cowboy boots make the perfect item with jeans, but on those warmer days you're not ready to slip into long pants, why not bring the denim with a skirt? A skirt and long-sleeved top with cowboy boots will make transitional dressing look easy and is a great way to regulate your temperature when you're unsure about what weather the day might bring.
Opt for all black
Monochrome dressing is rarely a bad idea when you're ready to make a statement, and opting for black as your color of choice will bring a little chicness to your transitional outfit. Opting for black cowboy boots with an oversized blazer and LBD screams style but will also see you through those not-so-hot yet not-so-cold days as we make the move to the colder months. You can also add black tights as we get closer to full-on fall.
Untuck those pants
Nobody said you have to tuck your pants into your cowboy boots, so why feel like you do? Cowboy boots are perfect to wear with wide-leg pants, and bring a touch of chicness to your look. Flared black bottoms over matching black boots are a great way to pull off this look if you're a little unsure. Rock it with a sweater, and there's no doubt it'll keep you well-prepared for any weather that may come your way.
Bring out the long-sleeved dresses for your boots
One of the best ways to nail transitional dressing is to bring out a long-sleeved dress that will keep you cool yet warm as the weather starts to change. As fall begins to approach, pairing with cowboy boots will keep you more covered in your lower half (and super comfortable to boot!) to fight off those slightly colder days, while still helping you look super on-trend at the same time.
A little metallic never hurt anybody
Ready to be a little more daring when it comes to your cowboy boots? Then this look may just be the one for you. Metallic cowboy boots are oh so hot right now, especially in pink to take your Barbie obsession into the fall. Pairing them with a darker-colored jumpsuit will let your boots be the center of attention while keeping you warm (just not too warm!) as we head into the fall months.