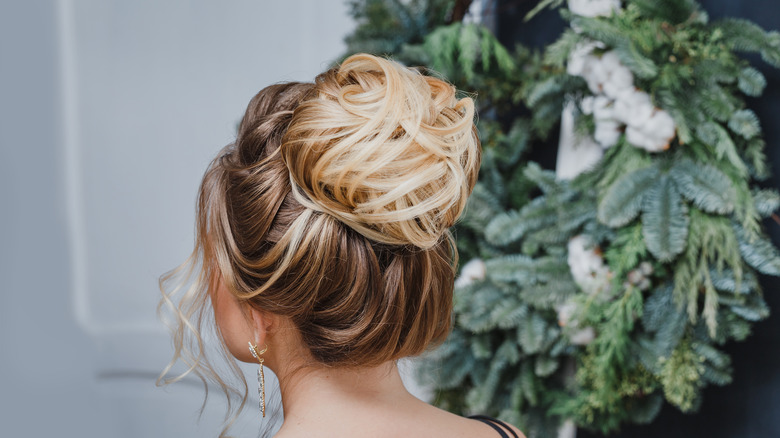 frantic00/Shutterstock
Whether you're prepping for a special occasion like wedding or just want to try something new, there are heaps of updo styles to choose. However, if you have particularly thick hair, you may be finding it difficult to find an updo look that doesn't leave you tearing out your hair in frustration. 
So, what exactly defines an updo? An updo is, as you may have guessed, a hairstyle that takes all of your hair off your face and is usually elaborately styled at the back of your head, though some are styled to the side. Popular examples of updo hairstyles include buns, braids, ponytails, and more. But here's the thing: If you have thick hair, it's easier to get creative with twists and loops others would die to achieve.
Don't worry if you're not a professional hairdresser though, as the following hairstyles are suitable for all types of hair experience levels, from expert to beginner. The only thing they have on common is that they're specifically designed for thick hair. 
Space buns
If you're looking for an updo to suit your natural curls, space buns are the perfect updo for you, though anyone with thick hair can try out the style. After prepping with texturizing spray, part your hair evenly down the center and then create two bunches, one for each hair side. Once you have secured your bunches, twist each hair bunch into a rounded, tight bun and tie them tightly into position. To keep them extra secure, use bobby pins at the base of the bun.
'90s claw clip
Just because you have thick hair, it doesn't mean you have to miss out on trends. Claw clips have been everywhere lately, and to create a cute look you just need to make a few adjustments. Per @itshollylc's video, gather all of your hair up and tie it into a ponytail, securing it with the claw clip. Then, allow the front section of your hair to fall back, covering the clip for a simple yet pretty way to keep your hair out of the way. Add a few bobby pins to give it more of a ponytail look and you're done!
Pineapple bun
If you have thick hair cut into a lob, you may struggle to do some more elaborate updos. However, there are plenty of alternatives, including the spin on the messy bun – the pineapple. Some only wear their pineapple bun to sleep in, but we think it looks gorgeous as an everyday style, too. Additionally a great hairstyle for natural hair, you just need to tie all your hair up into a high ponytail (using a scrunchie to avoid frizz) and let your curls fall forward. That's it! For a fancier take on the look, style your curls so they fall more to one side.
Fishtail braid
A fishtail braid is a little messy, making it perfect for low-key days or when you want to achieve a sexy, messy vibe (yes, it's a thing). To form this effortlessly cool look, grab a little more than half of your hair and tie it with a band in a loose bun near the top back section of your head. Then, using the remaining hair, make two fishtail braids. and wrap them around your bun. Don't worry if it's a little messy, as this only adds to the charm. Secure the final look with pins.
French braid bun
If you're looking for something more polished than the fishtail bun, then a French braid updo is more up your alley. A classic for formal events, you may need a bit of help to put this a bun braid together if you're not particularly skilled with making fancy hairdos. Start out by splitting your hair in two and creating your French braids. Once finished, take each plait and tuck the end into the rest of the plait (make sure you have plenty of pins). The end effect should be that of two braids intertwined in the center of your hair — use decorative clips to secure the braids even more.
Classic ponytail
Last but definitely not least, a gym-approved ponytail that will keep you cool even if you're sweating big time. As per @nicolemonserrax's video, those with thick hair should gather their hair up into a regular ponytail, then split the pony in two. Stretching the elastic between the two sections, secure your sectioned hair firmly with the band. Though not a traditional updo, this style is ideal for casual days. If you want to add a little something extra, you could always braid the top section.